Alan Luxenberg is President of the Foreign Policy Research Institute (FPRI), a think tank devoted to bringing the insights of scholarship to bear on the development of policies that advance U.S. national interests. Think tanks like the FPRI are crucial for establishing an informed citizenry in our country, and the concept for the Satell Institute was derived from the mixture of a think tank's capacity to educate and Ed Satell's own vision of promoting action – i.e. a "do" tank. We spoke with Alan about this genesis and how the Satell Institute has evolved over the years.
You sit on the Board of Advisors for the Satell Institute, so you're obviously well-versed on its mission and value. But can you describe how you initially got involved, how the organization has expanded and how the FPRI still derives a benefit?
Our involvement with the Satell Institute goes back before there was even a Satell Institute – to when it was just an idea that Ed [Satell] had to advocate the proliferation of corporate social responsibility (CSR) relationships between nonprofit and for-profit companies.  It's been quite amazing to watch the Satell Institute grow from these initial conversations to its current form, when the organization is helping corporate CEOs spur new avenues of philanthropy by deepening their commitment to CSR programs. One way that is happening is through this concept of 4-year commitments that the Satell Institute has mandated. Every nonprofit can benefit from that longer investment because it helps them make longer term plans, and multi-year funding has really been a game changer for countless companies.
You've been with the FPRI for more than 40 years – how has nonprofit funding itself evolved over the past few decades?
In general, foundations have moved away from receiving general support and into specific project support. In other words, for-profits have specific areas of interest and we try to find ways to coincide those interests with our academic research. What's great (and unique) about the Satell Institute is that they facilitate this information exchange between for-profit and nonprofit leaders, especially during their annual CEO Conference. That event is a great opportunity for these organizations to get to know one another and review ways where they can mutually accomplish their goals.
Let's talk a bit about our region. What trends do you see coming out of the Greater Philadelphia area related to CSR?
While the majority of think tanks are headquartered in Washington, DC (and there's certainly a benefit to that), we see being in Philadelphia as a unique advantage. We are within one hour's drive of 80+ institutions of higher learning and serve as a neutral meeting place for scholarship. Organizations like the FPRI and the Satell Institute don't have the partisanship that exists in DC, and our ability to be psychologically removed from that influence gives us a more positive approach to our work. We look to the issues themselves, and because of our network of connections and the media, we can get our ideas circulated anywhere. The FPRI and the Satell Institute have gained a reputation for high-quality work done with intellectual integrity, and when that happens, people call upon you.
What advice do you have for other CEOs or nonprofit leaders looking to put CSR into action and get more involved with philanthropic endeavors?
There are lots of ways to get involved in our community through civic education. Philadelphia has a historic role in our country's governance and we should take advantage of how organizations like the FPRI, the World Affairs Council and other groups still contribute to American leadership. But tactically, serving on a Board is a very important way to get involved. I am a Board Member at the Satell Institute and while the organization benefits from my corporate experience, I also benefit from the collective problem solving that takes place at Satell with scholars and other members. They have gathered some of the top minds in our area, and there is certainly a mutual benefit to that intimate interaction.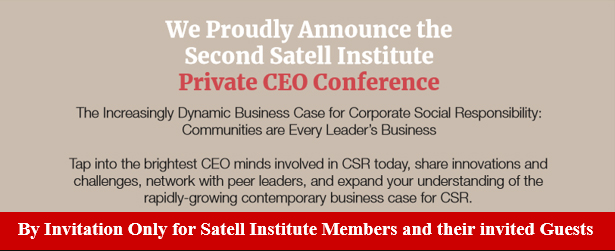 More than one-hundred of the tri-state region's CEOs and top business leaders are registered for the Satell Institute's second Invitation-only CEO Conference on Corporate Social Responsibility—Communities Are Every Leader's Business, discussing the business case for CSR.  This private peer conference features David L. Cohen, Senior Executive Vice President and Chief Diversity Officer, Comcast Corporation, and Chairman of Trustees, UPenn as keynote speaker.  Jim Dever, President of Bank of America, and Kevin Duffy, President of Tozour Energy Systems, will speak on their organizations' CSR.  The Conference also includes its hallmark — candid CEO-to-CEO peer exchange on CSR goals and initiatives.
The October 23rd Conference follows the highly successful April 18th Event, with keynote speaker William (Bill) McNabb, Chairman of Vanguard.