The record-setting event emphasized the importance of CEO leadership and building bridges in difficult times.
* * *
Taking place at a time of great unrest due to the dual threats of terrorism and totalitarianism, the Satell Institute's Fall 2023 Private CEO Conference focused on the important and timely theme of building bridges. The result was a memorable morning whose conversations resonated with a record crowd of more than 400 CEO members and their invited CEO guests, inspiring them to make an even greater impact in their communities.
The event—SI's 12th private CEO conference—took place October 31st at two prestigious civic institutions: the National Constitution Center in Philadelphia and the Heinz History Center in Pittsburgh. The conference elicited much praise from attendees, with several CEOs immediately committing to joining the Satell Institute and supporting nonprofits at a minimum of $100,000 over four years.
"Today is a celebration of the free enterprise system and its enormous contribution to the well-being of much of the area and the nation," SI founder and chair Ed Satell said in opening remarks. "Free enterprise organizations are the backbone of the economy. And nonprofits are major problem solvers that focus on making the human side of our communities better."
Talking about current worldwide threats, Ed noted the crucial role that CEOs play in leading society.
"We need moral clarity," he said. "History has taught us that when terrorists and dictators don't pay a high price for their terror, it causes more chaos, death and destruction. This was a great lesson from World War II, as well as recent horrific events. It is well-recognized that business leaders in World War II in the U.S.A. played a remarkable role in the victory by quickly adapting to the needs of the country at that time. Today, trust in government, the press, the courts, and experts has gone down substantially. Meanwhile, similar surveys are showing the reputation of business CEOs has gone up. You have well-earned this reputation through competition, innovation, resilience, and market discipline to better serve customers and the community."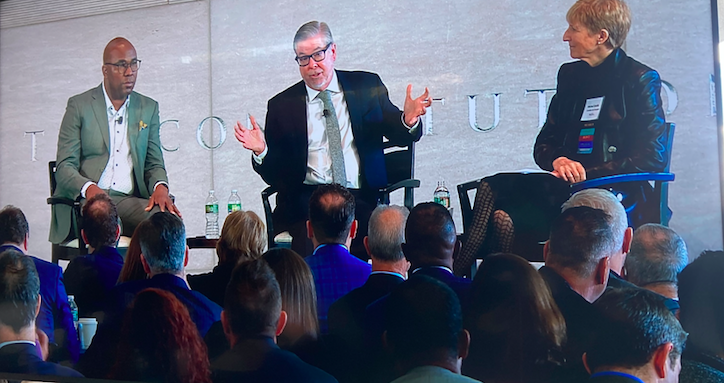 Keith Leaphart of the Lenfest Foundation, John Fry of Drexel University, and Michal Smith of Cradles to Crayons
The morning's outstanding presentations and conversations had a deep impact on many attendees.
"CSR is the way to our best outcomes as a nation," said Scott Balestrier, CEO of SolomonEdwards, a national professional services firm that was one of several businesses inspired to become a SI member because of the conference.
Added Liz Scott, co-executive director of Alex's Lemonade Stand: "I met many incredible, passionate people. Inspiring!"
The event's keynote featured the nationally recognized president of Drexel University, John Fry, a deeply respected bridge builder. Fry's compelling conversation with conference chair Dr. Keith Leaphart inspired much praise from SI members and guests.
Among his key insights for the audience of influential leaders:
Embrace partnerships.
As one of Philadelphia's anchor institutions, Fry believes Drexel has a special responsibility to extend its knowledge and influence beyond its own boundaries to benefit Philadelphia as a whole. "We like to think of ourselves as a private university in the public interest," he said.
Crucial to its approach have been numerous partnerships with government, philanthropy, private industry and nonprofits, all of which have worked closely with Drexel to improve the community in a variety of ways. Among the projects Fry cited were Drexel's merger with the Academy of Natural Sciences; Drexel's role in the creation and construction of the Science Leadership Academy Middle School in Drexel's Powelton Village neighborhood; and Drexel's acquisition of St. Christopher's Hospital for Children in North Philadelphia.
"I don't think there's anything that Drexel does of any consequence that doesn't involve partnerships," Fry said. "The big things we've been privileged to be involved with have a crowd of people around them."
Get engaged—and be optimistic.
When asked what advice he had for other leaders in the room, Fry mentioned two things. The first was simply to get involved. "What I tell people who aren't as engaged is, get in the game. Start somewhere. It doesn't have to be big. It doesn't have to be a complex public-private partnership. But get in the game."
His other recommendation was to project optimism in the face of challenges. "Leaders cannot afford not to be optimistic," he said, noting that organizations take their cues from the people in charge.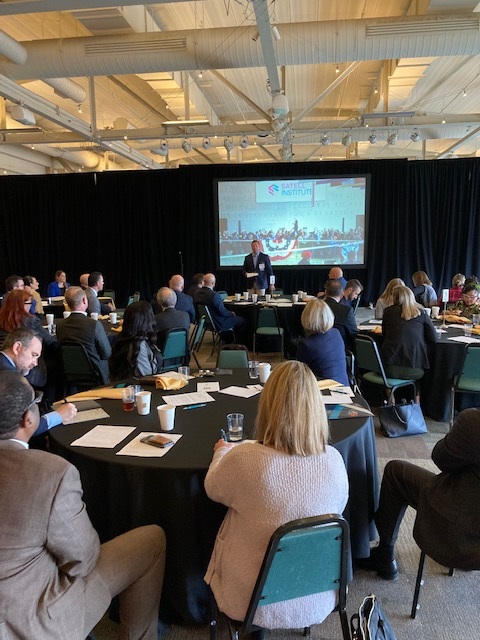 SI members and guests at the Heinz History Center in Pittsburgh
Know that progress is hard.
Fry emphasized that worthwhile endeavors are always difficult, and that patience and perseverance are crucial. "None of this stuff is easy," he said. "Even the small ones—they're hard, too."
Fry noted, for example, that it took 11 years from initial conversations about a middle school in Powelton Village to the opening of the school's doors, a period in which the project nearly fell apart on numerous occasions. And when Drexel acquired St. Christopher's, the hospital had a 2021 operating loss of $97 million (now reduced to $2 million).
But big challenges are no reason to shy away. "Were we just going to sit on the sidelines and let places [like St. Christopher's] go away? Or were we going to ask the question: what is the anchor supposed to do in cases like that? We had a lot of partners."
Adopt the 5-to-1 rule.
Finally, Fry talked about his own approach to building relationships, in which he puts a greater emphasis on supporting others than he does on asking for things. "I have a 5-to-1 rule, or maybe it's closer to 10-to-1. Every time you ask for something, do someone five favors. Never let that get out of balance….Because people don't see you as trying to get something from them. They see you as a friend and a partner who's willing to do whatever it takes to support them." This point resonated deeply with the audience.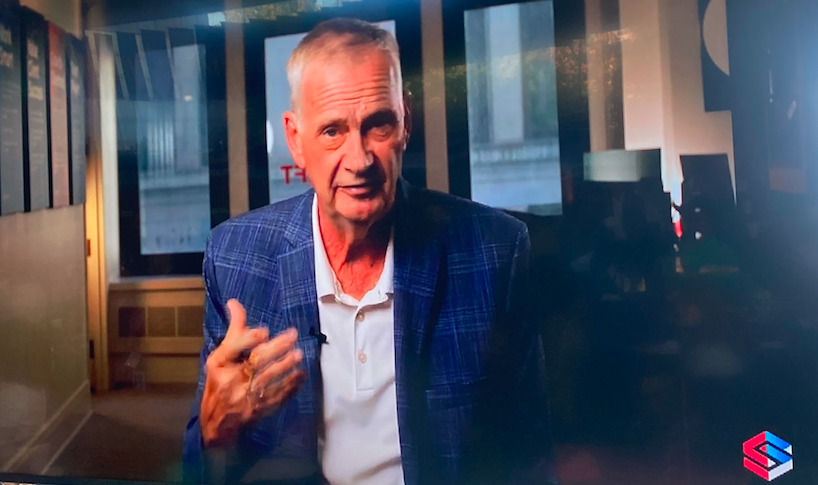 SI member Buddy Hobart addressing the conference
Conference attendees were privileged to hear from two outstanding member speakers. Buddy Hobart, founder and CEO of Solutions 21 in Pittsburgh, talked about how crucial it is for CEOs and other leaders to build bridges across generations. He urged business leaders to throw out the antiquated "career ladder" and recognize the "career chess board" that a younger generation now faces.
Michal Smith, executive director of Cradles to Crayons in Philadelphia, talked about the hidden crisis of clothing insecurity and the devastating impact it can have on children. In its work, Cradles to Crayons helps meet those needs by working with 170 agencies as well as numerous corporate supporters. "The bridges between Cradles to Crayons and the corporate community are absolutely essential in helping us to drive our movement of ending clothing insecurity for children," she said. "Without corporate involvement, we couldn't do what we do."
The conference concluded with the Satell Institute's hallmark CEO Idea and Experience Exchange, in which CEO members and guests held in-depth conversations with their peers about CSR. The exchange featured an array of "affinity tables" focused on six important areas of CSR: Education and Initiatives for Children and Youth;  Workforce Readiness; Human Health; Human Needs; Arts, Culture and Civic Institutions & Programs; and General CSR.