Current Events, Strategies, Stories  in Our Weekly E-Newsletter
Great Lawyer and Civic Leader Tells of the Vital Role of CSR as an Enabler and Inspiration to the Community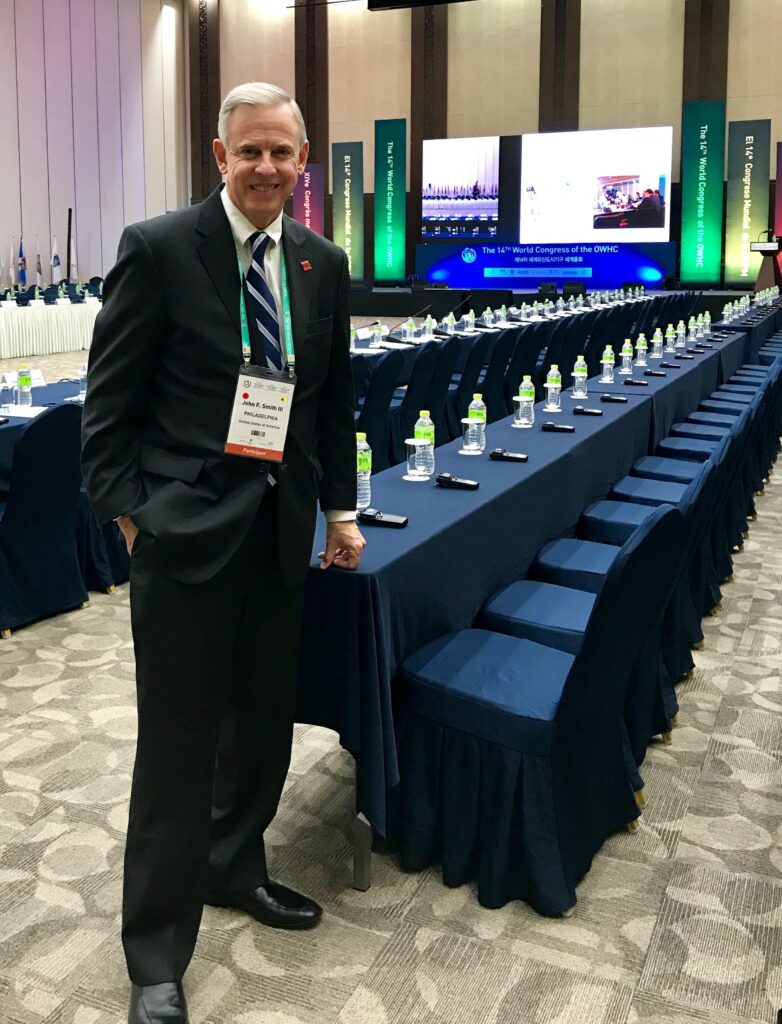 John F. Smith III recently retired following a remarkable career as a highly-esteemed lawyer as well as an effective civic advocate for Philadelphia. After being on the winning side of important cases and a leader in his firm, John was named Chancellor of Reed Smith University, a joint continuing education initiative developed in conjunction with The Wharton School of Business at the University of Pennsylvania.

Over the past nine years as Chairman of the Global Philadelphia Association, John has passionately and effectively worked to expand Philadelphia's global profile, assemble a critical mass of businesses, and secure Philadelphia the prized designation of being the nation's first World Heritage City.
John shared his thoughts on the evolution of Corporate Social Responsibility (CSR) and the important role of the Satell Institute in uniting businesses around civic engagement.
You have been part of the Satell Institute from the beginning and have seen it grow rapidly. What do you see as the unique strengths of the Institute?
First, I was glad to be part of an organization that saw itself not as a supplicant, but as an enabler. For me, it's been a nice opportunity – even a pleasure – to be part of an organization that is acting in a critical, catalyzing role to inspire others to give, not to it but to other worthy initiatives. When I tell people about the Satell Institute and that it's not going to cost them a dime except for a commitment to do some very heavy giving to other organizations, they are quite surprised and pleased.
To me, one of the biggest benefits is the network and the camaraderie of other similarly minded people. It's about that feeling that "I am not alone in my interest in being charitably active." I am reinforced by being in the company of others who are doing similar things and it emboldens me to speak to still others – third parties – that haven't yet come into the fold.
I also think the research part is extremely important. I am glad that Ed built that into the original concept. I like the notion of there being an academic thread – an important academic thread – so this is seen for what I think it should be: a deep philosophical way of thinking about civic engagement.
When you think back over your career, what role did CSR play?
What has been particularly interesting for me is that I have seen CSR from both sides. For a long period of time, particularly when I was involved in the executive management of Reed Smith, I had the opportunity to survey and evaluate where the firm would invest its money in nonprofit causes. On the other side, particularly given my various roles over time in civic organizations, most recently the Global Philadelphia Association, I have been the beneficiary. Both as a giver and a receiver, CSR has been hugely important to me.
What was your first introduction to CSR and how have you seen it change over the years?
I was introduced broadly to the concept when I was still an attorney at the Dilworth law firm. Dilworth has long been involved civically and we were engaged in a variety of community projects. So, the giving began there and has continued.
The term CSR though, I think, has evolved and been used more recently, perhaps reflecting more directly the fact that companies do have a corporate responsibility to the community. These days it's not just a member of a corporate hierarchy that thinks highly of a cause and gives to it, but it's seen as both a corporate obligation and an opportunity. I have seen that being adopted more formally by organizations as a whole. That is certainly one thing I think the Satell Institute has been particularly good at capturing in a very specific way – that corporate notion of responsibility and opportunity.
What changes do you expect to see in the way companies are addressing CSR in the coming years?
I hope that CSR will become second nature, as well as being explicitly part of the conversation. From the conversations we have had at the Satell Institute, it is clear that the value proposition for CSR has become more understood by the corporate community. There are good business reasons for being socially responsible and I don't think we can ever completely let go of those. My hope is that we won't need to be as explicit or didactic about the value proposition in the future because CSR will become a part of corporate DNA.