Two Remarkable Business,
Community and Civic Leaders
On Monday, December 14th, the Institute's Founder & Chairman, Ed Satell, is accepting a Globy—a lifetime achievement award from Global Philadelphia. This is a double honor for the Satell Institute, as early thought partner in the Institute's creation and Founding Board Member John Francis Smith III was Founder & long-time Board Chair of Global Philadelphia.
Recently retired from an outstanding legal career at Reed Smith that included being Chancellor of Reed Smith University with PENN's Wharton School, John was also an officer in the United States Navy. Like Ed Satell, John is deeply dedicated to Corporate Social Responsibility and the importance of nonprofits to the vitality of the region and has served in Board roles in many nonprofits.
John, too, believes that Philadelphia is a world-class city of great opportunity. That view led him to establish the Global Philadelphia Association (GPA) nonprofit initiative in 2009. These two remarkable business, community and civic leaders provide the Satell Institute with a double honor! At John's request, the Institute's Members will be acknowledged during the program on Monday.
Background on the Globy Awards
Global Philadelphia Association's Globy Awards recognize and honor Philadelphia leaders who contribute to the city's increasing global stature. The annual Globy Award is a distinguished occasion where outstanding accomplishments with international implications are celebrated.
Philadelphia—The only World Heritage City in the United States
The Greater Philadelphia Association was created to serve the international community of the Greater Philadelphia Region―to raise awareness of the many international interests, activities and resources. It is well known for its website that serves as international directory, bulletin board and magazine for the city and for organizing the effort to secure the prized World Heritage City designation for the City of Philadelphia. https://philadelphia.cbslocal.com/video/3316965-philadelphia-becomes-first-world-heritage-city-in-the-united-states/, GPA created an outstanding annual event—the Globy Awards to showcase the region's international focus and leadership. Another Institute Member, Osagie Imasogie, has also received a Globy Award. https://www.satellinstitute.org/pharma-investor-embraces-corporate-social-responsibility/
The Satell Institute is a Collective Force of Businesses and Foundations Partnering with Nonprofits to Serve the Greater Good™. Its key leadership includes Executive Vice Chair Anthony J. Conti, Managing Partner PWC (ret); Vice Chair for Conferences John L. Walsh, CEO of UGI Companies; Vice Chair for Membership Marc Brownstein, CEO of Brownstein and Vice Chair for Nonprofits Larry Dubinski, CEO of the Franklin Institute.
An outstanding year for Ed Satell and the Satell Institute
The Globy honor caps a year of significant recognition for Ed Satell's outstanding lifetime accomplishments. The Philadelphia-Israel Chamber of Commerce asked to honor Ed with their lifetime achievement award for his deep commitment to Israel. The Boy Scouts requested Ed serve as gala spokesperson in recognition of his focus on nonprofits. The Satell Institute was honored by the Association of Greater Philadelphia Fundraising Professionals for its impact on the region, especially during the pandemic. And now, Ed's longtime friend, John Smith headed the delegation that asked Ed to accept the 2020 lifetime achievement Globy, celebrating his civic, community, business and philanthropic outreach.
Thank you
The Institute is doubly honored by the vision and commitment of two great leaders. We are also grateful for the generous support of so many corporate and foundation friends across the region for this event.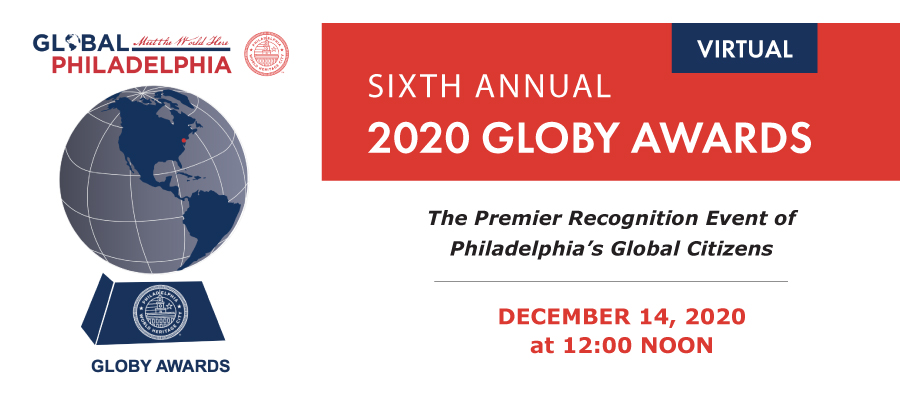 This is a virtual event. If you'd like to watch, please register for complimentary tickets at www.globalphiladelphia.org/globys
The Satell Institute Continues to Welcome New Members
Membership at SI continues to grow with great companies and private business donors and foundations choosing to support CSR locally with initiatives of their choice.
The Hamilton Family Charitable Trust
A warm welcome to the well-known and respected Hamilton Family Charitable Trust, Trustee Nat Hamilton and its nonprofit partner, another top regional institution, The Philadelphia Zoo.
The Hamilton Family Charitable Trust comprises two generations of the Hamilton family and has a long history of philanthropy in the Philadelphia region. The Trust works to create and maintain vibrant communities offering effective, equitable, and well-rounded education for all young people in Greater Philadelphia.
Its chosen nonprofit, the Philadelphia Zoo, is an "American First". The Zoo is a leading family destination and major conservation organization, home to nearly 1,300 animals. The Zoo educates more than 1.2 million visitors annually about animal and environmental conservation. Its KidZooU — a children's zoo and education center — serves as a model for children's zoos nationwide. This strong, shared goal of supporting communities and education is at the heart of the Satell Institute's model of corporate-nonprofit partnerships.