Million Dollar Match Comes in Substantially Over Goal!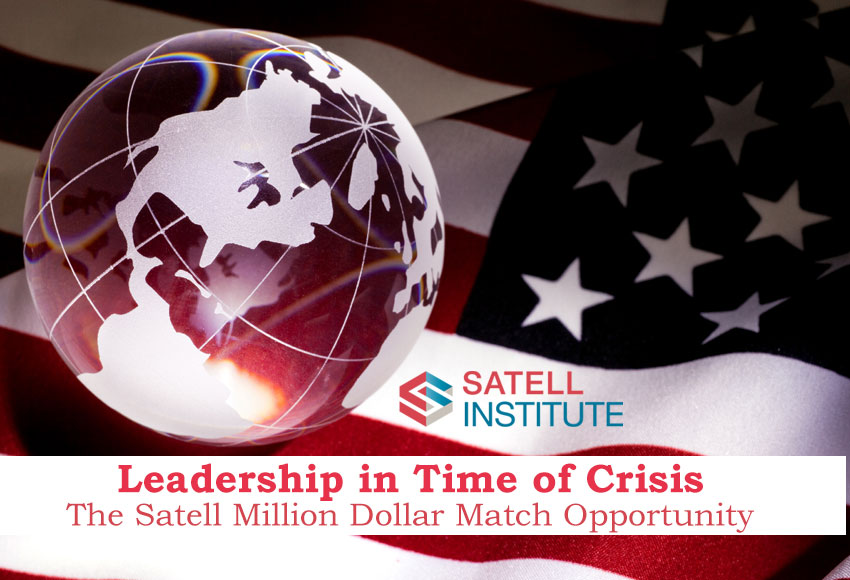 On Monday May 4th, the Satell Institute announced the Ed Satell Million Dollar Match Opportunity, an emergency funding initiative to support the widely diverse Nonprofit Affiliate Members of the Institute so hugely affected by the Covid-19 crisis and economic downturn.
The Institute's proactive challenge for the benefit of the hard hit nonprofits that contribute so much value to our community was a matching gift opportunity thanks to a $1,000,000 contribution of personal funds by Founder Ed Satell. An ambitious deadline of May 31st was set for the matching opportunity. We had reasonable expectations that our Members would respond, but we were overwhelmed by the speed and generosity of the response.
Below is our final report, listing the donors and some of their comments. Humbly, we say THANK YOU to all who participated. This is a Business, Foundation & Individual response to Corporate Social Responsibility that is inspiring and energizing for the nonprofit community. Thinking WE, not me, in action!
So many Members were inspired to choose to contribute considerably more than their match to the Nonprofit Affiliate of their choice!
The total raised in May to support our Nonprofit Affiliates is $2,948,553!
Our Generous Members were so passionate about supporting nonprofits, they chose to meet the four-year commitment requirement and added 6 new nonprofits as Institute Nonprofit Affiliates!
Thank you, Corporations, Foundations, Members, Individuals—Friends!
Contributors are listed in order of date of contribution, so new contributors are listed at the end.
Some are among the biggest in the region, some midsize or smaller and others are highly committed individuals, all supporting the well-being of our needed nonprofits who contribute so much to our community. Our thanks to all who have allowed us to publish their names and their inspiring quotes!
UnitedHealthcare of PA & DE, $10,000
Thank you for your leadership, compassion, and generosity.
UGI Corporation, $10,000-PLUS
Ed's vision has always been around supporting the community. We're grateful to participate in this opportunity, doubling the dollars to Nonprofit Affiliates. We're all in this together.
American Heritage Federal Credit Union, $10,000-PLUS
I am so proud to be a part of what Ed is doing to help where the need is great. He genuinely wants to make this world a better place. We are only on this earth for a short time and the differences that Ed makes will outlast all of us.
Bentley Systems Incorporated, $10,000-PLUS
Bentley is proud to be a part of the Satell Institute and humbled to be among the many other amazing organizations that work so hard to make sure everyone is cared for. We are excited to be able to leverage our giving to increase the impact to the Chester County Food Bank, who work tirelessly every day to ensure our friends, neighbors, and family members get the food they need to survive before, during, and after the global pandemic.
Stan & Arlene Ginsburg Family Foundation, $10,000-PLUS
Brownstein Group, $10,000-PLUS
The only thing bigger than Ed Satell's generosity is Ed Satell's compassion for helping the nonprofit community. This $1,000,000 Match is simply the latest example.
The Ash Family Foundation, $10,000
That is the thing about Ed. He thinks this way about helping others.
Winston Churchill said: "We make a living by what we get; we make a life by what we give." No one embodies that more than Ed. We are honored to work with the Satell Institute and be part of the Million Dollar Match.
We are so happy to share that several of our Nonprofit Affiliates tell us the total gift for the Match has qualified for a Matching gift from their national headquarters! Win-Win-Win!
PLUS – means our Members have committed a far larger gift than the $10,000 match to the Nonprofit Affiliate(s) they selected. What a difference this is making for so many Nonprofit Affiliates!
Nonprofit Leaders Continue To Comment …
City Year Philadelphia is grateful to leverage the opportunity as a nonprofit partner of the Satell Institute to encourage more charitable giving during this uncertain time. We are excited to receive a new $10,000 gift from UGI, that will be matched by Satell, for a total of $20,000 of new critical revenue! This allows our City Year AmeriCorps members to continue to help students from all over Philadelphia to re-connect and re-engage with their learning.
Since 1984, the Phillies have been a beacon of hope for The Greater Philadelphia Chapter of the ALS Association, when they took a chance on a small unknown charity with a budget of $4,500. And they remain so now, during these dark days when our patients are compromised, which makes them more susceptible to COVID-19. We are forever thankful to the Phillies, Phillies Charities and Ed Satell's Million Dollar Match Opportunity for their generosity and commitment to our cause.
I can't say enough about Ed―look what he inspired again among this community. His leadership in inspiring others to give is truly amazing. I am proud to be a part of it.
Ed never fails to amaze and inspire me with his leadership and generosity.
It's a great day for Scouting as the Cradle of Liberty Council joins the Satell Institute. We are especially proud that this opportunity has been made possible through Mike Innocenzo and our friends at PECO. Our Career Exploring collaboration with PECO has been successfully introducing urban teens to careers in business and engineering for more than a quarter century, exemplifying Ed Satell's vision for impactful long-term giving.
This is amazing. Ed is truly one of a kind. My team and I will certainly find a donor willing to match Ed's huge generosity.
We feel so lucky to be connected to the Satell Institute. It is amazing to us how simple commitments can lead to so much inspiration and energy!
Leaders like Ed Satell are listening to us and are doing everything that they can to help non-profits in this difficult time. Working together we will make it through this crisis.
We have so many competing needs right now—food, education, digital access—the Opportunity Ed has created makes a huge difference for so many.
What a wonderful, generous program and thank goodness for Ed Satell's support to the nonprofit community!
This is very exciting. What a vision Ed has! We're so proud to have him as our friend, benefactor, and advocate.
This is such an exciting opportunity for so many non-profits. Bank of America's continued investment in the Philadelphia Youth Network is a true testament to the power of corporate partnership with the nonprofit sector. We were beyond thrilled to learn that the Philadelphia Youth Network would be a recipient. Bank of America's commitment to youth employment is amplified by this generous act. Their investment in my leadership enables PYN to grow as an anchor non-profit in Philadelphia.
Friends step up when there's a need. Our community has no better friend than Ed Satell, who once again has invested himself in a real and personal way to invite others to step up. And so many have! We appreciate the kindness of donors to the Satell Institute Million Dollar Match Opportunity, who have helped Child Advocates and so many non-profit agencies respond to the hardship and loss of this most challenging time.
At the National Liberty Museum, core to our mission is celebrating heroes among us whose courage, compassion, and dedication to the wellbeing of others sets an inspirational example for us all. Ed Satell is the personification of these virtues, and his challenge will make such a profound and lasting impact on our city and region. Ed, you are our Hero!
It is so difficult to navigate through these challenging times, and I wanted to share my gratitude for the work of the Satell Institute and the matching grant initiative. We believe that the work of JEVS Human Services will be needed now more than ever, and we are committed to helping to get "Philly Back To Work." The matching funds we will receive, as a result of this new initiative, will help us to serve more individuals at this critical time.
I appreciate your generosity with these matching funds. We are very excited about being a non-profit affiliate and look forward to learning more about the Satell Institute
Philadelphia Business Journal Article on the Satell Million Dollar Match Opportunity: