The Satell Institute is strengthening its Think Tank leadership with a comprehensive online course on CSR. Partnering with its founding university affiliate, the University of Pennsylvania, Corporate Social Responsibility (CSR): A Strategic Approach is available on the prestigious MIT-Harvard edX learning destination. It is open to all at no charge. Those who successfully complete it will be awarded a signed certificate of achievement.
Hundreds of CSR professionals have enrolled
Business and nonprofit professionals, from all over America and abroad, are thirsty for knowledge on CSR. This is demonstrated by the 1,614 cohorts who signed up the first week  to take the CSR course developed by the Satell Institute with the University of Pennsylvania.
Close to half of those taking the course have an advanced degree
Of the people enrolled in the course, 43% have an advanced degree and 45% have a college degree.
Each is getting advanced knowledge on:
the CSR landscape
why CSR is essential for attracting and retaining employees, and how to take advantage of this win-win for the company and community
how CSR creates long-term benefits for a company and the communities it serves
the criteria for making  corporate-nonprofit partnerships successful
principles, and national and international best practices of CSR
This online course offers practical, applicable knowledge and strategies. Well-developed CSR case studies address complex problems that companies and nonprofits need to tackle together.
The knowledge acquired will enable working practitioners to develop, improve and/or benchmark a CSR program to their company's interest.
As the world's foremost Think and Do Tank for CSR, the Satell Institute provides cutting-edge contemporary research and resources including best practices, white papers, and videos on CSR from  thought leaders in the corporate, nonprofit and academic worlds. This scholarship offers organizations the information, data, workable strategies and opportunities they need to more efficiently accomplish the greater good they seek.
Verified certificate of achievement
Those who successfully complete the course will be awarded a signed certificate of achievement, verified by the University of Pennsylvania and the Satell Institute.
Here is what a few CSR leaders have to say about this online course
Several top business leaders piloted Corporate Social Responsibility (CSR): A Strategic Approach during the fall.
"Corporate Social Responsibility (CSR): A Strategic Approach is a fantastic resource," says Peggy Sweeney, Vice President of Institutional Advancement at the National Liberty Museum in Philadelphia. "The case studies and lessons delivered by experts in CSR are engaging and timely. I like that I can follow along at my own pace and participate on any of my devices. As a nonprofit professional, it's heartening to hear from a range of experts whose insights are so relevant to my advancement work."
"Gaining a global perspective is incredibly valuable as we live in a global economy," are the words used by Catherine M. Cahill, President and CEO of The Mann Center for the Performing Arts in Philadelphia. She says the course will broaden her understanding of CSR.  "From the international experts, I gained a point of view how CSR relates to volunteering, philanthropy and engaging employees through an international lens."
New online course begins each month
Corporate Social Responsibility (CSR): A Strategic Approach is available online 24/7 and runs for four weeks. It is available free of cost, and be accessed through most computers and smart devices. The course includes video lectures, online reading and a moderated online peer forum for Q&A and idea exchange. There is also a pragmatic toolkit for CSR as well as an assessment for benchmarking impact. The time commitment is approximately 4-8 hours across four weeks, which can be done in chunks of 10 minutes or less.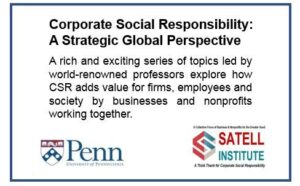 The Brownstein Group
Joins The Satell Institute
The Satell Institute is proud to welcome the Brownstein Group as a member of the Collective Force of Businesses & Nonprofits for the Greater Good.
The Brownstein Group is the longest-running independent brand communication agency in Philadelphia, and renowned for giving back to the community.
Brownstein Group Chairman and Chief Creative Officer Berny Brownstein and President and CEO Marc Brownstein were recently named to the Junior Achievement Philadelphia Business Hall of Fame for their career achievements in the business community and for serving as positive mentors for students in the region.
In joining the Satell Institute, the Brownstein Group has pledged a yearly sum for four years to the University of the Arts in Philadelphia. The donation, in honor of Alumnus Berny Brownstein, will be dedicated to scholarships.
"The Brownstein Group is built upon family values that guide each and every one of our business decisions, and this pledge reinforces our belief that family values never go out of style. The donation to the University of the Arts will help future generations of young people pursue their passions, and with that hard work and resilience anything is possible," says Marc Brownstein.
"The Brownstein Group is honored to be associated with other leading Philadelphia based companies in the Satell Institute."
Click here to find out more about the Satell Institute and membership.