Business Law Professor Stephen Park has been named to the newly created position of Satell Fellow in Corporate Social Responsibility (CSR) at the University of Connecticut's School of Business. Below is an article recently posted on UCONN's website.
"The School of Business is deeply invested in the development of Corporate Social Responsibility guidelines and shares the belief that this work is of utmost importance," said Dean John A. Elliott.
"Stephen brings tremendous enthusiasm and deep knowledge of this complex field. As a leader of the UConn Business and Human Rights Initiative, he has helped bring together some of the world's top experts and problem-solvers to create and advance solutions. With the support of the Satell family, we look forward to more of these pivotal discussions on the horizon."
The Satell Fellowship will support Professor Park's continued research in CSR and related fields, including socially responsible investing and corporate environmental and social reporting.
"In order to understand the impacts of business on society, I believe that we need to critically analyze the rules that govern these relationships," Professor Park said. "Neither governments nor communities nor companies working alone can comprehensively address climate change or poverty or the effects of globalization and technological change. Research can contribute to the development of metrics, standards, procedures and institutions to ensure that collective efforts to confront these challenges are effective, transparent, fair and inclusive."
The Satell Fellowship at the School of Business was established this year by a donation from the Satell Family Foundation. Ed Satell, the founder and CEO of Progressive Business Publications, is an entrepreneur, philanthropist and civic leader, who has long believed that companies should serve the greater good. He has supported many projects at UConn, including a research partnership in sustainable energy with Technion-Israel Institute of Technology and a social entrepreneurship program in Guatemala.
Ed Satell is a serial philanthropist, and recently created the Satell Institute, an independent, non-profit foundation focused on corporate social responsibility, which champions the interdependence of successful businesses and the well-being of the communities in which they operate.
"Businesses have abundant capacity to positively influence the lives of their employees, the communities in which they operate, and the world in which we all live," Professor Park said. "There are tremendously complex and controversial questions about the roles and responsibilities of consumers, investors and other stakeholders, and managers and the ways that social responsibility can be facilitated and incentivized."
"I am grateful for the support of the Satell Family Foundation and the School of Business for my work on Corporate Social Responsibility," he said.
The Satell Institute congratulates Professor Park on being named the Satell Fellow in Corporate Social Responsibility (CSR) at the University of Connecticut.
Professor Park is fully aligned with the Satell Institute that for CSR to thrive, companies' actions and support should be voluntary and predicated on their own self-interests. Corporations get involved in CSR activities of their choice or their business alignment to strengthen the long-term well-being of the community they serve and the people who live there, following the principles of free enterprise. By doing so, businesses have found they create opportunities to both attract and retain superior talent, strengthen their brand and improve firm valuation. Successful businesses make long-term commitments to accomplished specialized nonprofits that share their goals.
Click here to learn more about Professor Park's impressive qualifications.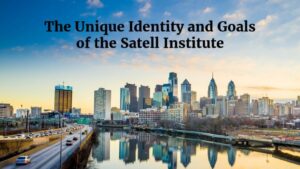 IDENTITY
We are nonprofit and nonpartisan.
We are advocates for free enterprise values, the rule of law and the importance of acceptance of individual responsibility.
We are cause-agnostic. Our members support a broad range of nonprofits and causes.
We are fully-endowed. We take no fees.
GOALS
The foremost Think Tank in the world for CSR serving research, best practices and educational needs of business organizations and others.
A Collective Force of Businesses and Nonprofits serving the greater good of communities.
Click here to learn more about our unique vision and identity.