Current Events, Strategies, Stories in Our Weekly E-Newsletter
New Member Benefit for Nonprofit Affiliate Leadership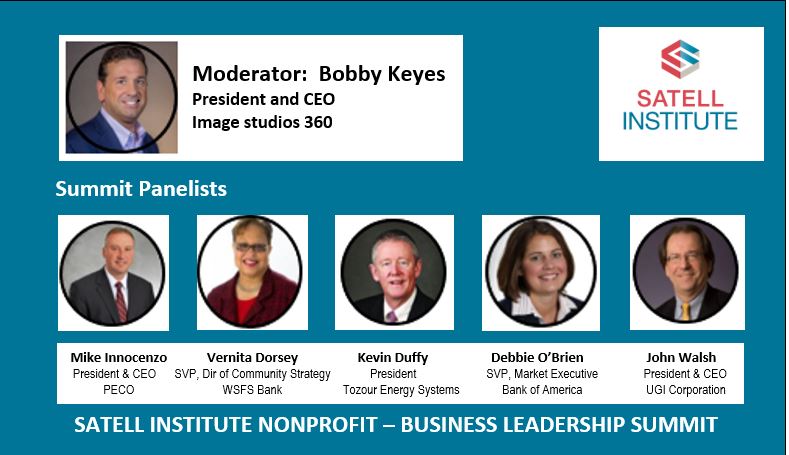 Successful business-nonprofit partnerships greatly benefit all community stakeholders - those who live and work there including employees, vendors, shareholders and their families. With this in mind, the institute announces its inaugural Nonprofit-Business Leadership Summit.
This new Member event, exclusive and free for Institute Members and Nonprofit Affiliate Members will be an impactful morning focused on the Why, Who and How of successful corporate-nonprofit partnerships.
The all-star business leader panel features national, regional and local companies deeply invested in community building from a number of perspectives. Moderated by Bobby Keyes, CEO of Image Studios 360 and retired GM of Enterprise, the lineup includes John L. Walsh, CEO of UGI, Mike Innocenzo, CEO of PECO, Vernita Dorsey, SVP of WSFS Bank, Kevin Duffy, President of Tozour Energy, and Debbie O'Brien, SVP Market Executive from Bank of America. These distinguished leaders will speak briefly and then candidly answer a series of questions posed by Bobby Keyes on their Corporate Social Responsibility initiatives. The attendees will then have the opportunity to raise their own questions to the panel.
Of course, the new Summit will include a Satell Institute hallmark—moderated peer executive round tables, with a mix of for-profit, CSR and nonprofit leaders at each. Here participants will discuss and question the benefits and challenges of their partnerships, as well as strategies of how to gain additional partnerships of value. The "take home value" from the candor of the comments and the great experience of the participating executives makes for a memorable time and a valuable experience.
To provide a terrific professional development opportunity, each Nonprofit Affiliate CEO is encouraged to bring a member of his/her leadership team. The Institute intends this Summit to become an annual event.
Thursday, November 14th at the Franklin Institute—we look forward to our broad range of Nonprofit Affiliates taking advantage of this unique, educational and developmental opportunity!
The Satell Institute Continues to Welcome New Members
Membership at SI continues to grow with great companies and private business donors and foundations choosing to support CSR locally with initiatives of their choice.
PENSKE TRUCK LEASING
This week we welcome a long-respected name in the transportation industry, Penske Truck Leasing. For more than 60 years, Penske, with more than 316,000 vehicles and 1,100 locations, has been serving customers that include small businesses with one or two trucks to large multinationals with fleets of hundreds. Penske has selected the Hope Rescue Mission for its four-year commitment.