Mill Creek Capital Advisors Co-founder and President Joshua Gross has learned a few strategies from other industries for keeping his business on the upward track. Branding through CSR is one of them.
"When it comes to CSR, our job is to support causes and projects we are passionate about, develop our employees and strengthen the region. It's a virtuous circle," says Mill Creek Capital Advisors Co-founder and President Josh Gross.
Due to the nature of his business, Josh deals with some of the most successful institutions and families in greater Philadelphia. Almost all deeply care about the betterment of their community. Josh has learned he can distinguish his business as one that cares.
"We see CSR to be in our self-interest to further strengthen our ties in branding with our clients," says Josh.
"Our clients are proud of us for taking a lead position in their philanthropy and events. When we get involved in their fundraisers, we don't do it with alligator arms or slide under the table. We make sure we are noticed. This attracts others to get involved at a higher level."
Taking a leadership role
"Not all of our clients are looking for us to give. Some prefer us to volunteer time by serving on a board. This involvement gives us more opportunities to demonstrate our leadership capabilities."
"Our employees (many in their early 30s) are encouraged to serve on our client's or nonprofit's committees and subcommittees. We strongly encourage this. I tend to find the more involved they are, the harder they work and more pride they feel. Contributing back into the fabric of the community is good for their personal and business development, and further helps to brand the firm."
It's a brand that clients want.
According to Josh, Mill Creek Capital has a 99% retention rate of clients each year. This is 10% higher than average in the financial service industry according to PriceMetrix, an industry leader in practice management analytics software.
We strengthen our brand by supporting those who support us
A case in point is Shipley, one of the top private schools in Pennsylvania.
"Shipley was my first client. We have worked together for almost 19 years."
"Through our affiliation with the Satell Institute, we made a 4-year commitment of more than $30,000 per year to the school. The monies we donate go back to their general funds for discretionary use. We don't earmark where it goes. Shipley is well run and stewarded properly. The leadership knows best where to use the funds for its planning."
"This commitment becomes especially crucial in down years, like 2008 and 2009, when people don't feel wealthy. There are no capital gains in the market at these times. Donating isn't a high priority. With our commitment, we became one of the biggest donors of the year. Shipley knows we may not be the biggest donor but we will always be there. Over time, if you give $25,000 – $50,000 a year, every single year for 20 years, that can approach $1 million. It puts you in rarified air."
Why MCCA chooses to be a member of the Satell Institute
"I don't think we are doing CSR badly, But, I don't kid myself that we can't do better. As a corporate affiliate of the Satell Institute, I am associated with some of the people who are world-class at CSR. I look around the room at these incredible people as mentors, and ask 'What did they do' and 'What are they doing'? Each has a different story. I ask myself 'What is the common thread?'  That's when I discover more truths about CSR, which enables us to set our compass true north and continue our growth."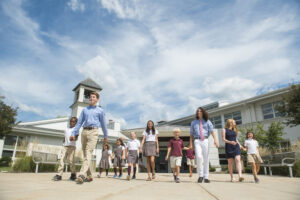 The Shipley School is a co-educational, independent, college-preparatory day school with approximately 850 students in pre-Kindergarten through 12th grade.Shipley is located in Bryn Mawr, Pennsylvania, approximately 12 miles west of Philadelphia. "Partnering with the Satell Institute in our four-year commitment to Shipley was an obvious pick. The leadership at Shipley is very focused on STEM. It is very genuine. It's a wonderful place for a lot of kids."