Henri Moore is a busy woman. She is Global Leader of the Center of Philanthropy and Education at DuPont, the Wilmington-based global leader in Agriculture, Materials Science and Specialty Products. Her title alone can hardly be said in one breath, let alone her responsibilities within the company. We had the opportunity to speak with Henri about DuPont's commitment to corporate social responsibility (CSR) and how that translates locally and across the world.
Can you elaborate a bit about the CSR mission of DuPont, and also your function within the organization related to philanthropic efforts?
I started with DuPont three years ago, and prior to that I was with Citizen's Bank in a similar role. When I began, our mission was global giving, so really spreading our investment across the globe and coordinating how those efforts were aligned. I will say that it's much easier to build a CSR brand around a unified product, and tougher when the company is diversified into so many different interests. We take our responsibility to our global mission seriously, but over the last few years we've really drilled down to also focus on the local affect/effect of our investment.
How do CSR efforts abroad compare to those here in the US?
I've had the great fortune to travel around the world to meet with employees, NGOs and government officials to hear about what will make an impact and what parameters we needed to operate within. It's very important to get a sense of the environment where you're trying to make a difference, whether in a new country or even just a new neighborhood. Every society has its own rules and norms. In India for instance, the government requires that 2% of the company profits go towards CSR investment (regardless of the business' country of origin). So it's incredibly liberating to know, "Okay, we have X amount to spend, where can it do the most good?" And then you look for programs that are sustainable over 3-5 years that will make a long-term impact.
Is that multi-year investment important? Did that play a role in your decision to join the Satell Institute? (Full disclosure: DuPont is a Founding Corporate Affiliate.)
Multi-year funding is a critical part of any CSR program, however, almost as important is the level of involvement between the for-profit company and their nonprofit partner. You can't just throw money at an issue and you can't unilaterally decide how to help people. It's unfair and overly paternalistic. Funding must be a joint decision based on intelligence from all parties. If you don't work with (and get agreement with) your partner to align on goals, you're just tossing money at an issue instead of solving a problem. You need a plan and a constructive strategy wherein everyone is involved in the process. That's where the Satell Institute comes in – they make the connection and their multi-year funding commitment ensures each side is held accountable to results.
You mentioned that companies with a product or service that naturally aligns with a social issue might have an easier time finding causes to support. How can companies without that alignment, or those with diverse interests (like DuPont), find the right nonprofits to support?
We want to make an impact in the communities we serve – it's a key part of our mission and certainly something driven by our employees, who are very active in social giving. But since we're not a social services company, we developed three pillars that guide our efforts: empowering women, enabling youth and engaging communities. We've brought CSR under that umbrella concept and the relationships that have since developed with our partners have helped focus our efforts.
That's why the Satell Institute is such an important resource – they don't just connect for-profits with nonprofits, they also act as counselors to help CEOs better understand the importance of CSR and develop the appropriate giving strategy. I live and work in Philadelphia and it's crucial we all work together. There are so many nonprofits here that unfortunately won't survive, but by working together and sharing information we sustain key parts of the philanthropic community.
Speaking of Philadelphia, how bullish are you on the future of the city? Have you seen the work of CSR evolve over the last ten years?
There is so much opportunity in Greater Philadelphia. The region is full of universities and there is a strong connection between academia and business that is turning once vacant land into sustainable parts of the community. I'm encouraged by all of the development and investment here. Because corporations have begun to realize that as Philly goes, so goes business and talent. Business leaders have a stake in the region's continued prosperity, and I'm hopeful that CSR can do the work that will systemically raise all of the people up.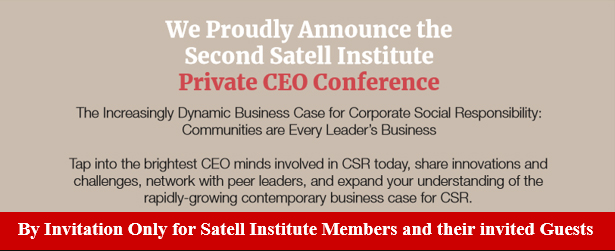 More than one-hundred of the tri-state region's CEOs and top business leaders are registered for the Satell Institute's second Invitation-only CEO Conference on Corporate Social Responsibility—Communities Are Every Leader's Business, discussing the business case for CSR.  This private peer conference features David L. Cohen, Senior Executive Vice President and Chief Diversity Officer, Comcast Corporation, and Chairman of Trustees, UPenn as keynote speaker.  Jim Dever, President of Bank of America, and Kevin Duffy, President of Tozour Energy Systems, will speak on their organizations' CSR.  The Conference also includes its hallmark — candid CEO-to-CEO peer exchange on CSR goals and initiatives.
The October 23rd Conference follows the highly successful April 18th Event, with keynote speaker William (Bill) McNabb, Chairman of Vanguard.