Explore the rich medium of oil painting through
the subject of still-life while further acquiring the working knowledge of the fundamental principles of working from observation.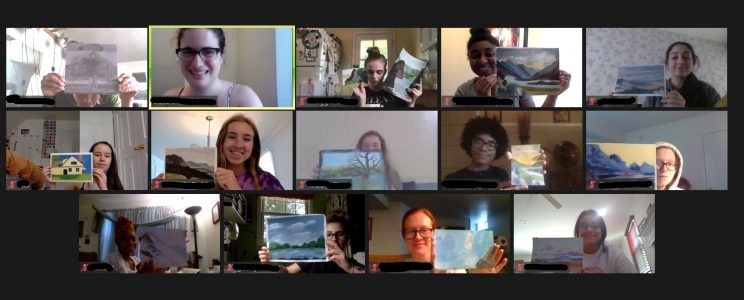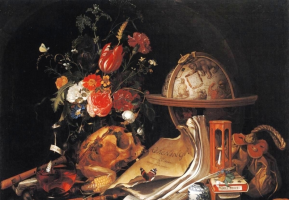 Through a series of structured studies, we will examine how to analyze space, determine proportional relationships, develop form and structure, as well as, study composition, basic color theory, and the language of visual texture.
Time will be spent at the outset of each day to introduce students to each assignment through live demonstrations via online Canvas platform. In addition to the first-hour live introduction of each day, there will be an additional one-hour live session from 1-2pm. Students will have 2-3 hours to work on assignments following each presentation, assisted by available feedback from the instructor.
Monday: Limited Palette Studies, Color Contrasts
Tuesday: Limited Palette Studies, Color Contrasts Continued
Wednesday: Full Palette Study, Lighting, Compositional emphasis, and mark-making
Thursday: Final Composition, Brunaille Underpainting
Friday: Final Composition Continued, Glazing, Group Review
Students have the option of taking this class for 1.0 college credit or no credit. The only difference in experience is that "for-credit" students will receive a grade for their work.
Studio Art, Art Making, Painting, Portfolio Development
High School (Grades 9-12)
Pennsylvania Academy of the Fine Arts:
The Pennsylvania Academy of Fine Arts (PAFA) is the first and oldest museum and art school in the United States. It offers undergraduate, graduate, continuing education, pre-college, and youth and family programs for artists and art lovers of all ages and skill levels who want to learn about and make art.
About the Educator: Sherif Habashi
Sherif Habashi holds an MFA from the University of Massachusetts, Amherst, and a BFA in painting from University of the Arts (UArts). Working in oil on linen and mixed media on paper, his work is driven by rival notions of curiosity and nostalgia. Born in Egypt, he is attuned to the incongruity between heritage and one's experiences of the present. As a result, he is attracted to artistic idioms that probe contrasting perceptions of identity and belonging, while working with techniques that encompass the experimental and traditional. He has exhibited extensively, including at Seraphin Gallery, Cerulean Arts Gallery and NEXUS: Foundation for Today's Art, where he was a member. He was a recipient of a Fleisher Art Memorial Wind Challenge Exhibition in 2011, and his work was featured in the 2016 Northeast Issue of New American Paintings. In addition to PAFA, he has taught at UArts and the Fleisher Art Memorial.
Sherif Habashi teaches drawing, oil painting, watercolor, mixed media and other courses in Continuing Education's adult and high school programs.